A guide on how to wear the sunglasses depending on your face shape.
Posted by ANTHONY QUINTANA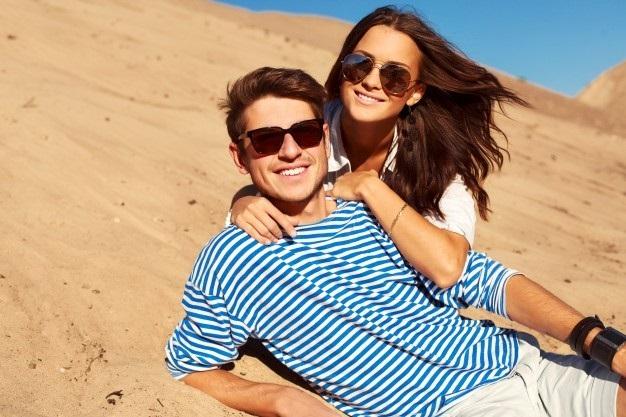 Sunglasses not only protect the eyes from the harmful sun rays but are also becoming a part of the fashion trend. There is no doubt that sunglasses play an important role in changing the look of the entire outfit. But very few people know that one cannot just enter a shop randomly and pick-up any sunglasses they like. One has to be very careful about the right sunglasses for the face shape that suits him well. It is important that you are well aware of your face shape and size of the face before you buy any sunglasses. The point is that if you know your face type better, you can find a fitting and classier pair of sunglasses for all face shapes.
Now there are various face shapes like round, oval, diamond, square, etc. so, one needs to look into the mirror or take someone's help to determine his face shape. After you determine your face shape, it will be easier for you to choose the best-suited pair of sunglasses for your face type. Let's have a quick look at the types of sunglasses available based on the shape and size of your face:
Round: The round face is more about the curves and less about the angles. Since a round-faced person already has enough curves, he must avoid choosing the curved sunglasses. They must choose sunglasses with sharp angles so that it gives their face a thinner and elongated look. It is said that the square, rectangular and shield sunglasses are the best-suited ones for the people with the round face shape.
Square: The right sunglasses for the face shape of the square are the round ones, oval ones, aviators or butterflies. The key feature about the square face is that they are equal length and width along with a structured jawline and big forehead. These sunglasses are suggested because they round off the sharp edges of the face giving it a balanced look.
Oval: The people with the oval face shapes are the luckiest ones because any kind of frames suits that face type. The oval shape is a fairly balanced shape with round shape and even features. They can have a variety of options to choose from be it an expensive designer pair, a sporty look or a fashionable one. Everything works equally well.
Oblong: you can say it oblong or rectangular; their key features are that they are long, narrow and a bit angular. If you have an oblong face, then you should go with the oversized sunglasses for your face type. Since a rectangular face has a long look, the thick frames might help add some width to the face shape. The oblong faces can choose wraps, rectangular sunglasses or squared ones, but they must avoid small frames at all cost.
There are many other face shapes like a diamond that will go well with small and rimless frames and heart ones that will look good in shielded, butterfly ones or aviator styled frames. One can choose sunglasses for all to face shapes according to their face shape, type and size. Many times people choose sunglasses that they find pleasing, but the problem is that you cannot wear something that you find good but choose something that looks good on you, suits you.  What is the point of buying sunglasses that you like but doesn't suit your face shape? Instead, when you wear something that you didn't really like that much but fits well with your face- that's worth the money. So, be careful with your choices and showoff that fashionable sunglasses without regret.